The World Bank Group published the first market report on Floating Solar. The technology is creating major new opportunities to scale up solar energy around the world, particularly in countries with high population density and competing uses for available land but also in Europe.

Article written by World Bank Group first published in connection with the Floating Solar Market Report in October 2018 combined with an interview by Joshua S Hill with Kristina Thoring, Communications Director at SolarPower Europe first published in November 2018 in CleanTechnica.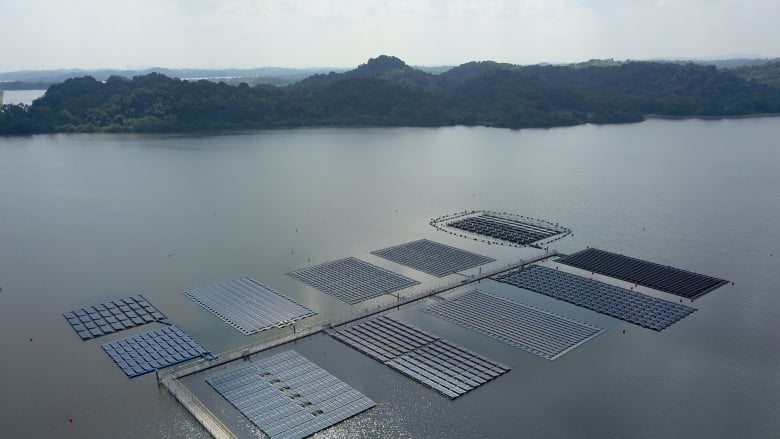 Photo: Solar Energy Research Institute of Singapore
Floating solar – the installation of solar photovoltaic panels floating on the surface of lakes, hydropower reservoirs, agriculture reservoirs, industrial ponds, and near-coastal areas – is one of the fastest-growing power generation technologies today. It opens new horizons to scale up of solar power globally, particularly in countries with land constraints.
The capacity for floating solar is growing exponentially. At the end of 2014, total global installed capacity stood at 10 megawatts (MW). As of September 2018, that figure had grown more than 100-fold, to 1.1 GW. The new report estimates the global potential of floating solar, even under conservative assumptions, to be 400 gigawatts or roughly the total capacity of solar photovoltaic installed worldwide at the end of 2017.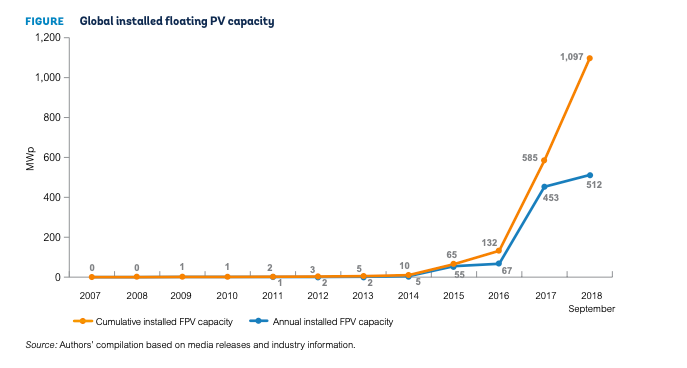 The greatest advantage of floating solar is that it avoids land acquisition and site preparation issues associated with traditional solar installations. In some cases, floating solar allows for power generation to be sited much closer to areas where demand for electricity is high. This makes the technology an attractive option for countries with high population density and competing uses for available land.
Floating solar also complements existing hydropower infrastructure. At some large hydropower plants, only 3-4 percent of the reservoir would need to be covered with floating solar panels to double the electricity generation capacity of the dam. In addition, combining hydropower and solar power outputs can help smooth the variable nature of solar power. The technology can also help manage periods of low water availability by using solar capacity first and drawing on hydropower at night or during peak demand. In agricultural reservoirs, the solar panels can reduce evaporation, improve water quality, and serve as an energy source for pumping and irrigation.
While up-front costs are slightly higher, the costs over time of floating solar are at par with traditional solar PV, because of floating solar's higher energy yield due to the cooling effect of water.
The technology is particularly promising for fast-growing Asian economies. Interest is growing rapidly in the region, and large plants are being installed or planned in China, India and Southeast Asia.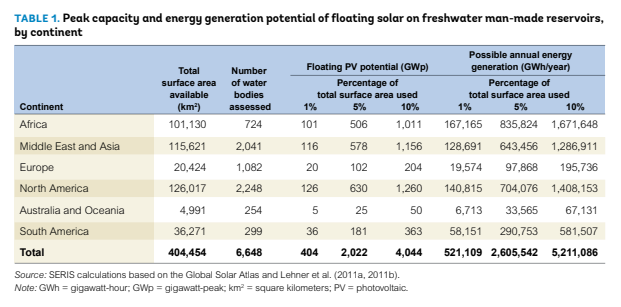 According to Kristina Thoring, the Communications Director at SolarPower Europe, there is also a huge potential for floating solar in Europe.
"Already in 2016, Lightsource Renewable Energy completed and connected Europe's largest floating solar farm (6.3MW installation) on the surface of the Queen Elizabeth the Second reservoir just outside of London. Several large and small-sized floating solar projects have recently been announced across Europe. In the Netherlands, the Lingewaard floating solar park will begin producing energy this year and supply clean energy to up to 600 homes. In France, the French power producer Akuo Energy is planning to deploy a 17 MW floating PV power plant in Piolenc, Vaucluse, southeast France. Similarly, in Belgium, the Flemish government has announced that they will support a pilot floating solar project on lakes or ponds that are not being utilised for other purposes. In Portugal, there are plans for a hybrid hydro-solar project which involves installing floating solar panels on a reservoir to supplement an existing hydro plant."
"This is only the beginning for floating solar in Europe. It is a perfect solution for countries with restricted land areas or underutilised areas, such as dam reservoirs, to become solar power-generating stations." – Thoring
Still, some challenges exist including the lack of a long-standing track record, possible effects on water quality, complications related to the anchoring and mooring of installations, and the relative complexity of maintaining some parts of the installations - electrical components, in particular.
Despite these challenges, floating solar offers significant opportunities for the global expansion of solar energy capacity.