The Importance of Knowing Investor Profiles as a Project Seller
At first glance, many investors may seem to have near identical investor profiles.
However, once we start digging deeper through interviews and negotiations, we realise how differently investors approach their investment decisions.
As a project seller, you want to achieve the best possible price for your project.
You also want to close the deal with the potential investors, whom you may have been in talks with for months.
In order to improve your odds with the transaction, you must have a keen understanding of the types of investors and what characteristics they each have.
The 5 Main Types of Investors in Renewable Energy
These are the 5 main types of investors in renewable energy:
Funds
Family offices
Utilities
Institutional investors (pension funds and insurance companies)
Brokers
The 5 main types of investors can be categorised as direct buyers or indirect buyers (on behalf of the final investor).
With regards to the indirect buyers, it is especially interesting to know whether they have capital available to complete the deal, or whether they need to return to the investor they represent in order to secure funds to complete the commitment to the project.
The table below shows the different types of investors: their characteristics, whether they use financial leverage and when they are normally ready to make their capital available for investments.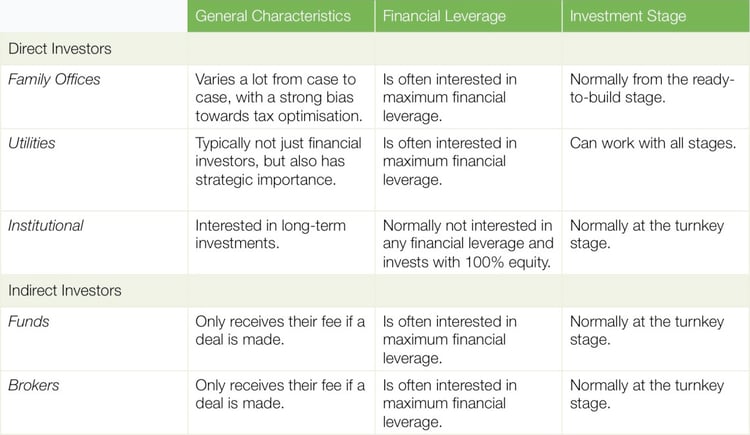 This table is intended as a guideline.
Within each category of investor, you will find wide ranging variances in how they deal with investments.
The table aims to show project sellers how understanding the buyer's criteria can improve their chances of achieving the best project sale outcome.
Feel free to comment below if you have any questions or email me directly at kr@greendealflow.com.
Best regards,
Kenn Righolt
CEO, Green Dealflow